Champion Tails Highlight Make-up 250g
Item is in stock
Only

4

left in stock
Item is out of stock
Item is unavailable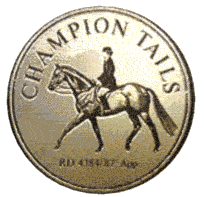 CHAMPION TAILS Highlight make-up is great for shading your horse or pony. The Blue Black is exactly that a very black make-up with a natural finish. The more you use it the more it will adhere to the hair. Put it on fairly thickly the night before around the eyes and then wipe off excess in the morning. Add the CHAMPION TAILS clear highlight if a glossy shine is required.
The Red Black is for chestnuts or horses with that hint of red. Excellent finish, use as above.
The chestnut Highlight can be used to cover scars or marks on chestnut horses. If you need it to be lighter just mix with a small amount of white cover creme. If you need it darker mix with a little of the red or blue black.
All orders are posted within 2-3 hours on weekdays. Actual delivery times may vary. Thanks for your understanding.
Customer Reviews
Every horse person around the area knows this is the best place to shop. Marion and staff are terrific and very knowledgeable.
I'm so grateful for the helpful and very informative service I received at The Tack Box today...I walked out feeling supported and informed.
If I could give this place a 10 star rating I would. They go above and beyond to help people, Thank you so much to the lady that helped me out!
Great store, lovely staff, wide range of products at affordable prices. One of my favourite horse shops to go to to buy tack room needs.